Research
My research is linked to studying the interaction of the fundamental building blocks of nature: particle physics. I am particularly interested in studying the properties of the Higgs boson using the data collected with the Atlas experiment at CERN. Although the ultimate goal is discovering signs of new physics, studying nature at these small scales is a fascinating adventure in itself.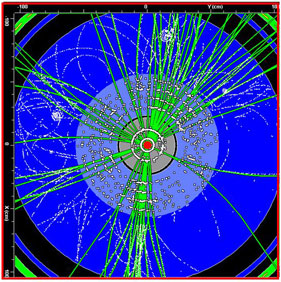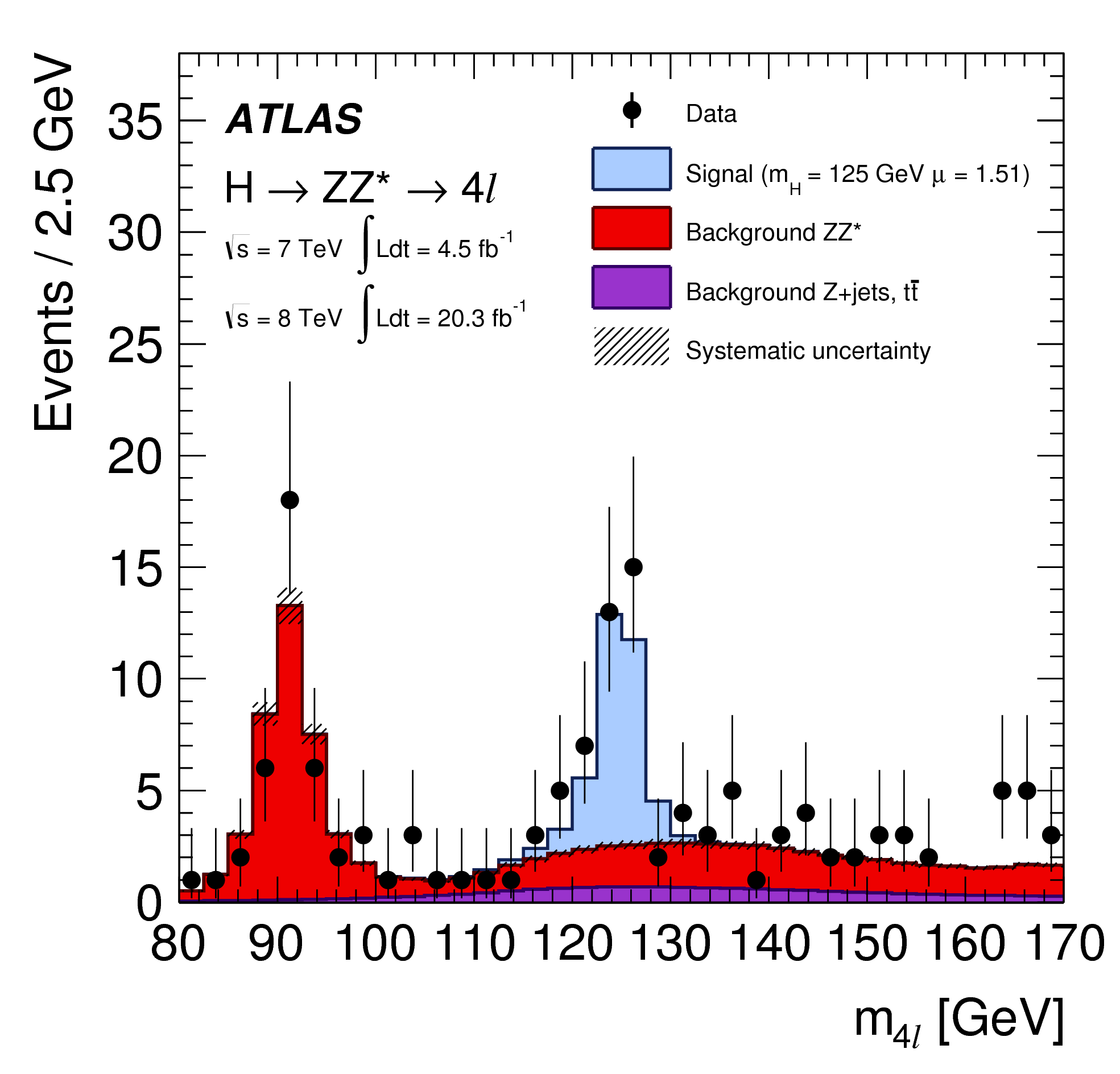 Main research: natural width of the Higgs boson
My current research is related to the (indirect) measurement of the natural width of the Higgs boson by studying the details of the interference between off-shell Higgs production and the production of two Z bosons at high invarant mass. The Nikhef scientists working on this are Hella Snoek and Peter Kluit and two PhD students Birgit Stapf and Michiel Veen (who drive the effort with all their work). Wouter Waalewijn will join the effort later as a theorist.
The latest publication from the ATLAS experiment on this topic:
arXiv:1808.01191
[todo: more information]
Side-project: hydrophones and high energy neutirno's
The coming year I will also dedicate a fraction of my time to a project with PhD student Rasa Muller and Ernst Jan Buis. The goal is to work out one of the ideas of Ernst Jan to detect extremely high energy neutrinos using a novel approach. After an exploratory (master) research project on this fascinating new idea by Rasa Muller it is time to see how far we can push this.
Completed students projects in our group
There are many students, from bachelor to PhD level, who join the Nikhef ATLAS group to join in our research. An list of the projects I have been involved in during the last few years:
PhD students
ongoing: Michiel Veen [co-supervisor Hella Snoek and Wouter Waalewijn]
The (indirect) measurement of the natural width of the Higgs boson in the ZZ->llvv final state





2015: Antonio Castelli [co-supervisor Peter Kluit]
Measuring the Higgs boson mass using event-by-event uncertainties (pdf)


2012: Nicole Ruckstuhl
Muon signatures in ATLAS A search for new physics in μ± μ± events (ped)


2012: Egge van der Poel [Higgs analysis section]
Muon performance studies in ATLAS towards a search for the Standard Model Higgs boson (pdf)


2011: Alexander Doxiadis
Searching for the Top - observation of the heaviest elementary particle at the LHC (pdf)
There are many more research groups at Nikhef. The full list of all
Nikhef PhD theses
.
Master students
2018 (ongoing): Bram Hoonhout [co-supervisor Hella Snoek]
Use of machine learning in separating ZZ production modes to enhance sensitivity for indirect Higgs determination of the Higgs boson width.


2018: Rasa Muller [co-supervisor: Ernst Jan Buis]
KM3NeT hydrophones in neutrino detection


2018: Aidan Kelly [main supervisors: Patricia Conde Muino and Ricardo Goncalo]
Sensitivity of the ATLAS Experiment to Constrain the Higgs Coupling to b-quarks


2013: Athanasios Chouliaras
Higgs Spin and Parity determination using H -> ZZ* -> 4l with the ATLAS detector (pdf)


2013: Aagje Hendriks
A search for the Higgs boson in the decay to b-quarks with the ATLAS detector (pdf)


2011: Koen Oussoren [co-supervisor: Marcel Vreeswijk]
Flavor Changing Neutral Currents in Top Quark decay at the ATLAS Detector (pdf)


2010: Rose Koopman [co-supervisor: Paul de Jong]
Background estimates in searches for the supersymmetric light top quark at the LHC (pdf)


2007: Nicole Ruckstuhl
Testing a mSUGRA dark matter annihilation model for the EGRET gamma ray excess with ATLAS (pdf)
Bachelor students
Rosa van den Ende, Jordy Butter, Maarten Post,Mischa Reitsma, Marco van Woerden, Bardo Bakker, ... [not complete]