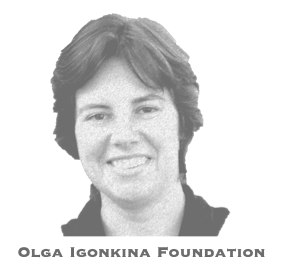 The Olga Igonkina Foundation was founded in 2020 in memory of Prof. Dr. Olga Igonkina (1973-2019). Olga was a Russian-Dutch particle physicist. During her career she worked on experiments in Hamburg, Stanford and at CERN in Geneva. In her research she concentrated on so-called lepton-flavour-violating processes. Since 2015 she was professor by special appointment at the Radboud University in Nijmegen.
Mission
The primary mission of the foundation is to promote international exchange of young scientists. Every year the foundation provides a scholarship to a promising student in particle physics. The scholarship is intended for travel to a conference or scientific institute outside their home country. Interested students can apply for the scholarship by sending in a concrete travel plan. A jury consisting of senior physicists in the field selects a winner. The next application round is in early spring 2021.
Besides the scholarship the foundation also funds projects that aim to widen the interest of children in science. Interested parties can contact the foundation at the address below.
Latest news
May 11 2020: The winner of the 2020 scholarship is the Russian PhD student Viachelsav Matiunin. See also the announcement on the Nikhef news page.
Jan 7 2020: Announcement of 2020 edition of the scholarship, see here.
Scholarship applications
This year's application page can be found here. (The 2020 deadline has passed. Next year's deadline will be early 2021.)
Foundation statutes
The foundation statutes (in Dutch) can be found here. The foundation has no profit motive. The renumeration policy for members of the board can be found in the statutes.
Annual reports
The foundation was established in spring 2020. The first annual report will appear towards the end of the year.

Contact address
Stichting Olga Igonkina Foundation
Edward Masseystraat 18
1086ZL Amsterdam
KvK: 77829220
RSIN: 861161531
e-mail: OlgaIgonkinaScholarship@nikhef.nl
Foundation board
| | |
| --- | --- |
| Chair: | W. Hulsbergen |
| Secretary: | H. Snoek |
| Treasurer: | A. v. Rijn |