The last minutes in the EMIN facility.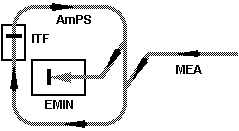 ---
At Thursday 13 November 1997 02.00 hr the last experiment in the EMIN facility of AmPS at NIKHEF was finished. View a pictorial representation of our last minutes.
Dramatis Personae
Herman Boer Rookhuizen, Henk Peek, Louk Lapikas, Ronald Starink, David Groep, Marcel van Batenburg and Eddy Jans
---
Thanks a lot to all who contributed to the success of the EMIN program!

Louk Lapikas