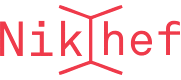 Information
About the NDPF
Physics Data Processing
Outside Access
Nikhef SSO
NDPF Status
Support
Meetings
HEPIX2019
NikhefTV
Guides and Training
eScience Certificates
eScience Cert Guide
Legacy certificate Guide
Facilities
Systems
Statistics
NIKHEF Network
NIKHEF Grid Wiki
Accounting NDPF
NL-T1 Alarms
Engineering & Research
AARC
Grid Trigger
LCAS/LCMAPS
gLExec
System Utilities
Authentication
Nikhef OID Registry
Nikhef URN Registry
Open Code Repository
Research Data Management
Software and Tools
Files Repository
---
Privacy notice
Grid and outside users at NIKHEF
On the regular production systems
At NIKHEF, we do not allow `outside' users to use local production computing systems. We do not support `guest' accounts nor shared `group' accounts. You can only run your jobs on NIKHEF internal production system if you have a local NIKHEF account. If you feel you're eligible for such an account, contact the Computing Technology group. Ask your contact person at NIKHEF to request an account for you. The relevant page to point to is http://www.nikhef.nl/nikhef/computing/requests/account.html.
Note that we will no longer accept requests for Grid use of the NIKHEF desktop systems. That service has been discontinued.

In all cases, please contact the NIKHEF Grid/PDP support if you have any questions: grid.support@nikhef.nl.
---
Comments to David Groep